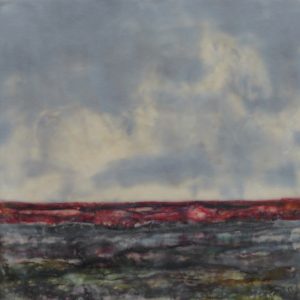 Growing up in Winnipeg, Manitoba, I spent my summers at Whytewold in the Village of Dunnotar on Lake Winnipeg. Now, I live close to the Red River. The open spaces of the prairies and my association with the lake, the river and the Manitoba climate affect my sensibilities and are inspirational to my artistic practice. The proximity to the water is comforting and liberating, yet, I have always been mindful of "THE RIVER". A source of beauty, recreation, and a habitat for wildlife, it can be a menacing neighbour.
I first graduated from the University of Manitoba with a Bachelor Degree in Science. I was a Computer Systems Analyst and Programmer before staying home to raise my family. During that time, I pursued my interest in painting and became a student of Nik Bjelajac at The Forum Art Institute. When my children were older, I returned to the University of Manitoba and obtained a Fine Arts degree and a Certificate in Teaching English as a Second Language. Currently, I maintain a studio in Cre8ery and teach English to Newcomers to Canada.
I work in encaustic, oil, and acrylics. My work reflects my interest in language, systems, process and sense of place.
sites.google.com/site/susanbirdwise/
email: jsbirdwise@gmail.com