Current Collection is below, new works arrive on May 28th & will be posted starting on May 26/27th as time permits!
Open to the public Tues to Sat, 11am to 5pm, 125 Adelaide St, 2nd fl. Available for appointment after hours. Closed to the public Sunday & Monday. Masks are Mandatory. Last update to this page May 19 at 3:48pm
To purchase Jordan 204-944-0809 / jordan@cre8ery.com
Also please check out the other link for small cabinet/sculptural items here: http://www.cre8ery.com/portfolio/fine-craft
Follow us on facebook, Instagram.
Method's of payment: Cash, Etransfer, Debit, Credit. (online options are available for pick up at a later date please contact gallery.)
For full screen viewing, click image, click the back browser button to return to the list.
To May 28: Melodie & Robert Dondo, Dan Hawksworth, Prabjhot Singsh, Sandra Proulx, Gregg Burner, Dodie Mitchell, Roberta Sparling, Cyndie Sutherland, & Chris Foster.
To June 18: Stephen Sigurdson, David Howell, Jerry Rubin, Christie Dawn, David Pavlich, Janet Letkeman, Cathie Ugrin.
May 28 to July 2 Heather Gillespie, Valerie Peasey, Derek Blake, Heather Gillespie, Jackie Turnbull, Zach Tottle, Sheri Turner, Jo Salazar, Jan Kushnier, & Ingrid Lincoln.
June 18 to August 13: Tanisha Salokoh, Anne Layman, Corinne Flaws, Nora Kobrinsky, Helma Rogge, Maureen Babbs, Jaqueline.
(closed July 6-13 & July 27-Aug 10)
July 2 to August 28th: Marlene Roy, Sharon Ritterman, Carol Stocki, Angela Taylor, Beverly Zimmerman, Alexis Dufault, Catherine Popiel, Lynn Krivak, Julia Penny.
August 13 to September 17: David Cooper, Jocelyn Rushworth, Lisa Bissett, Caroline, Kristina Ryan, Liz Leones.
August 27 to October 8: Lori Ferguson, Warren Kachmar, Monika Hansen, Carrie Paulicelli, David Colvin, Sarah Collard (full)
September 17 to October 22: TBA
Kathleen Black, Red Riperian, 12″ x 12″, $275 (includes taxes)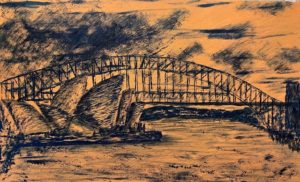 Bill Rademaker, Foreboding Sydney, 13″ x 22″, Acrylic on Panel, $250 (includes taxes)
Kathleen Black, Dare Devil Tree, Acrylic on Canvas, 12″ x 12″, $275 (includes taxes)