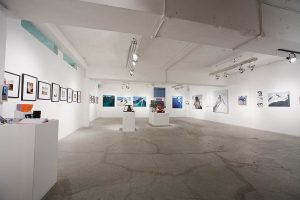 Special Event Rental in Main Gallery, (not exhibitions) 
Host a special event in our main gallery space (please see Gallery rental section for exhibitions) before or after cre8ery business hours, all day Sunday &/or Monday!
---
---
Rates:
$75 per hour plus cash bar
-All events must end by 11pm
-All set ups for events can begin at 5pm on Saturdays and 6pm on weekdays Tuesday to Fridays.
-Set up for events on Sundays and Mondays are negotiable as the gallery is closed to the public on these days.
-Times include both the set up and the take down of the event.
Saturday evening to Monday evening: please contact for rates specific to the hours you will be requiring the space (great for conferences and large meetings/gatherings)
---
Availability:
Please email jordan@cre8ery.com your 1st, 2nd and 3rd choice of dates you are interested in. We will try to accommodate you and your group for your 1st choice as best as possible.
The gallery is unavailable on the nights we host our artist receptions which occur every two weeks on Thursday or Friday evenings as well as on some Tuesday evenings due to a tear down of an exhibition.
If you have any questions please contact Jordan.